Charlamagne Gives DJ Envy The Most Awkward Christmas Gift Ever: "Is This Your Butt Cheeks, Yo?" (VIDEO)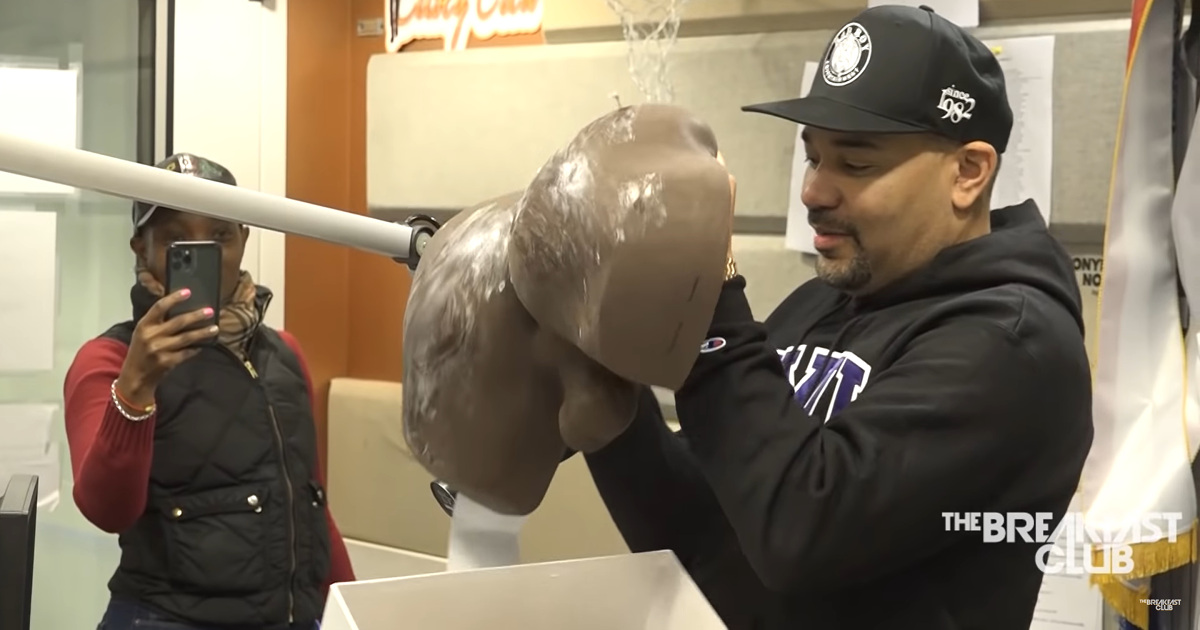 Charlamagne Tha God is trending and you really don't want to know why. But we're going to tell you anyway.
The radio host returned to The Breakfast Club for his first day back since the holidays and had one final gift to give his co-host DJ Envy.
"It's no secret that Envy flirts with me constantly," Charlamagne said. "Ooh, it's heavy, too. What you call me, thiccums?" he said as he grabbed the present, which featured a peach emoji.
A visibly excited Envy was eager to open the mysterious gift and read the note: "Ho Ho Ho! Happy holidays, love Charlamagne Tha God." But he definitely got more than he was hoping for.
"Is this yo butt cheeks, yo?" he asked as he pulled out a jiggly mold of Charlamagne's ass. "Is this balls? Is that your balls?!"
Yes, Charlamagne really did gift his straight and married male co-worker a replica of his buttocks, complete with his testicles and a "life-like" hole.
"Put your thumb in there," Charlamagne teased.
"I am not putting my thumb in your butt!" Envy proclaimed. That is, until he played along and stuck his finger in Charlamagne's hole.
"I don't know how to feel about this. This is uncalled for. You're flirting with me…I just might take this to Human Resources," Envy added before telling his co-host thank you for the gift.
After video footage of the bizarre gift-giving exchange began to circulate, Charlamagne became a trending topic on Twitter.
Charlamagne what's going on at home man pic.twitter.com/yFtOBBvgqH

— Captain Planet ? (@lilmarsspittin) January 7, 2020
Charlamagne went from gay bashing to being suspected of being gay, molds of butt cheeks & offering to give head to Tekashi69 Smh. Talk about a full 360 degrees. #BreakfastClub pic.twitter.com/7h24F7u8Jq

— John Clarke (@JohnClarkeNYC) January 7, 2020
This just in: Charlamagne is suspect asf. More at 11. pic.twitter.com/qT66WD4Nwa

— Never need a bitch, I'm what a bitch needs (@Quotemeorelse) January 7, 2020
Tank and Charlamagne right now. pic.twitter.com/T0mIltLoc1

— Jermaine Watkins ?? (@JermaineWatkins) January 7, 2020
Nothing wrong with Charlamagne getting a mold of his ass and balls made but there is something wrong with unveiling it on the Breakfast Club by DJ Envy instead of Angela Yee pic.twitter.com/8m5bq30gfx

— NeL (@NeL________) January 7, 2020
Charlamagne…sis…a mold of your ass and balls? pic.twitter.com/QFRtzY1Gk8

— bryson. (@iambrysoncarter) January 7, 2020
I really commend Charlamagne and DJ Envy for finally coming out…it's not the normal coming out story but hey whatever floats their boats….??????

— Louise Belcher ?? ?? (@BunniBrickhouse) January 7, 2020
Me after receiving a mold of Charlamagne Butt cheeks as a gift …… pic.twitter.com/wwd5EATMDm

— John Clarke (@JohnClarkeNYC) January 7, 2020